Ready amenities in a ready city:
- Located right on Central Avenue
- 60% Open Green Spaces
- 5 Schools with multiple boards
- Multiple Clubhouses
- Transport Hub with easy access to all key locations: Dombivli station, BKC, Andheri, Airoli, Vashi, etc.
- Retail High Street
- Temples
- Short walk from a 10-acre waterfront
- Olympic Sports Centre
Lodha Casa Olivia At Palava City
Palava City, Antarli, Thane, Dombivli, 421204, Maharashtra.
Rera Number : P51700052243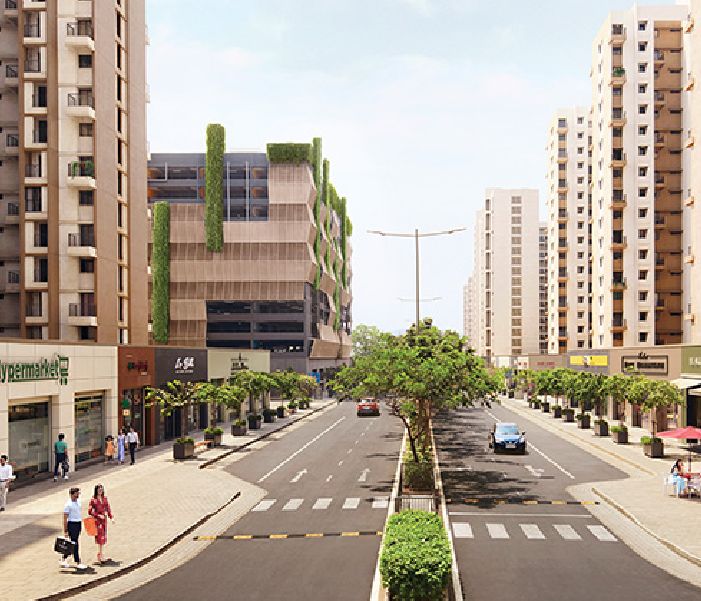 Description
Lodha Casa Olivia: Where Luxury Meets Comfort - The Ultimate 3 BHK Living Experience in Dombivli
The newly inaugurated Central Avenue has paved the way for a mere 5-minute relaxed drive from your Palava residence to the Kalyan-Shil road. Revel in the exclusivity of private entry onto this road, optimizing your valuable time and affording you more priceless moments with your cherished family.
Each bedroom boasts its own dedicated wardrobe space, enhancing organization and aesthetics. The impressive clubhouse and Olympic Sports Centre lend an air of grandeur, while numerous renowned schools spanning various educational boards cater to your discerning preferences. Your safety is paramount, underscored by cutting-edge security systems.
Discover the breathtaking panoramic vistas of the expansive lake from a magnificent sundeck, set within the enchanting ambiance of a thriving community. Embrace a lifestyle enriched by an array of outstanding amenities right at your doorstep. Whether it's a bustling retail high-street, a state-of-the-art Olympic sports center, access to top-tier educational institutions, well-appointed offices, a serene lakeside park, inviting playgrounds, or serene temples, all integrated seamlessly with the city's intelligent infrastructure and unparalleled safety measures, you'll relish the ease of indulging in a multitude of world-class offerings just moments away.
Show More
Why this Property?
Luxurious 3-bed residences feature expansive sundecks, inviting abundant natural light and refreshing ventilation through generous windows. The bedrooms offer spaciousness and incorporate thoughtfully designed wardrobe alcoves. A welcoming foyer ensures visual privacy, and air-conditioned bedrooms provide comfort in every season.Experience the epitome of luxurious living fused with comfort at Lodha Casa Olivia, the premier destination for those seeking the finest properties in Dombivli. Nestled in the heart of this burgeoning locality, Casa Olivia redefines contemporary living with its meticulously designed and spacious 3BHK flats in Dombivli.
Dombivli, an up-and-coming suburban gem within the Mumbai Metropolitan Region, has witnessed an escalating demand for quality residences. In response, Lodha Casa Olivia emerges as the ultimate solution, seamlessly blending luxury and practicality. With the city's growing appetite for expansive yet elegant homes, this project is an oasis of tranquility and convenience.
At the core of Casa Olivia's appeal are its thoughtfully curated 3BHK flats. These generously proportioned units provide ample space for families to flourish. Each dwelling has been intricately fashioned to anticipate the evolving needs and preferences of modern households. Well-ventilated living areas, tastefully adorned bedrooms, and efficient kitchens harmonize to create an environment of refined living.
Show More
Key Features
Casa Olivia's strategic location enhances its allure. Situated advantageously within the Mumbai Metropolitan Region, Dombivli facilitates seamless connectivity to major commercial hubs and recreational destinations. Whether you seek proximity to work, leisure, or education, Dombivli offers an array of options within arm's reach.
The amenities within Casa Olivia are a testament to its commitment to elevating residents' quality of life. Lush landscaped gardens provide a serene escape, while a cutting-edge fitness center caters to your well-being. The development goes above and beyond by ensuring round-the-clock security and ample parking, prioritizing safety and ease for all residents.
As the real estate landscape evolves, Casa Olivia shines as a paragon of modern architectural brilliance. Balancing opulence and pragmatism, this project meets the escalating demand for upscale living in Dombivli's locale.
In summation, if you're in pursuit of a 3BHK flat that embodies contemporary living in Dombivli, Lodha Casa Olivia stands as the ultimate choice. Beyond providing a mere residence, it promises an enriched lifestyle that seamlessly merges luxury, comfort, and convenience, all nestled in the heart of Dombivli's thriving urban expanse.
Show More
Price